Call (920) 394-3114 or e-mail; jeffbennett@centurylink.net Check us out on Facebook at JNB GUIDED FISHING
WE GUIDE ON LAKE PUCKAWAY, LAKE WISCONSIN, LAKE PETENWELL, CASTLE ROCK LAKE, SWAN LAKE, BIG GREEN LAKE, DEPERE ON THE FOX RIVER, WISCONSIN DELLS ON THE WISCONSIN River.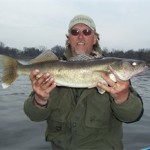 Hi my name is Captain Jeff Bennett and owner and operator of JNB FISHING GUIDE FISHING. I'm always focused on providing high quality fishing service, fishing walleye and customer satisfaction I will do everything I can to meet your fishing expectations. With over 50 years of walleye fishing experience, let JNB fishing Guide Service be the tool to help you learn about locating and catching walleyes, northerns, bass, crappies and pan fish in area lakes and river systems. We will teach you every aspect of fishing for walleye that we know. During your fishing trip you will be explained in detail how we are fishing and why we are doing each presentation for walleye fishing.
Contact us at JNB GUIDE FISHING for walleyes fishing, northern pike fishing, bass, crappies fishing, blue gills, perch, catfish.